Pulsed Eddy Current Decay Corrosion Detection
Pulsed Eddy Current (PEC) - are electromagnetic (EM) based tools for multiple pipes corrosion inspection. The tool can measure the metal wall thickness of concentric pipes to provide the analysis of cemented casings through hanging tubular.
ePDT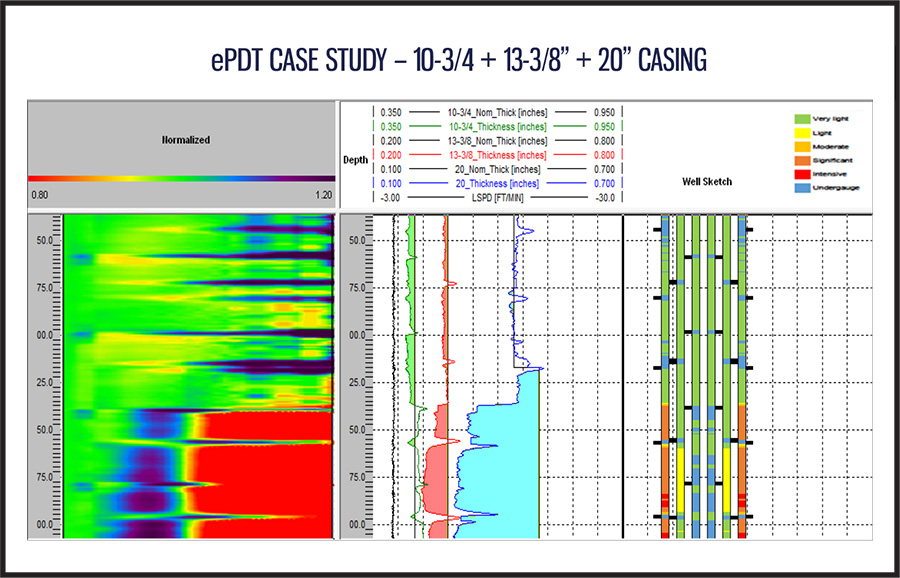 The enhanced Pipe-Thickness Detector Tool (ePDT) is a two-inch O.D. advanced electromagnetic metal thickness evaluation instrument. The integrity of multiple concentric tubular strings can be evaluated in-situ. In most cases, this eliminates removing the tubing string or disassembling the surface completion hardware to facilitate data acquisition. ePDT is the industry's "Next Generation" thickness instrument. It is based on evolutionary pulsed eddy current physics which permits simultaneous quantitative thickness measurements in up to five concentric pipes. The state-of-the-art instrument includes a new patented transmitter-receiver array that reduces noise and increases logging speed. This allows the evaluation of tubular ranging from 2-7/8-inch to 26-inch O.D.
MTD
The Magnetic Thickness Detector (MTD) is a 1-11/16 in O.D. electromagnetic thickness measuring instrument based on pulsed eddy current decay technology. It is primarily run through the tubing, and has the unique ability to simultaneously inspect the tubing and up to 2 more pipes with a maximum diameter of 18-5/8". Optimized analysis routines yield a quantitative 3-pipe thickness evaluation. MTD is combinable with noise, bond, production logging, and multi-finger calipers. The integrity of the tubing and casing strings can be evaluated without the need for a costly workover rig, or the expensive and time-consuming removal of the tubing and completion hardware.
Multi-Finger Calipers
Multi-Finger Caliper tools provide direct, accurate, and reliable measurements of internal tubing and casing diameters. Used in both drilling and production environments, applications include evaluation of corrosion, erosion, wear, bending, buckling, pits, holes, and other defects with high accuracy. Measuring fingers move radially along the inner casing or tubing wall to detect any diameter change. This produces a high-resolution record of the tubular geometry which can be viewed and presented as a conventional log, a cross-section, or a 3-D color-enhanced image. The Multi-Finger Caliper may also be used to measure the buildup of scale, paraffin, or other mineral deposits in the wellbore. Auxiliary measurements include an integral wellbore temperature probe along with deviation and relative bearing information. A range of instrument diameters with different finger arrays is available to provide optimized measurements in tubular ranging from 2-3/8 in. to 20 in. diameter.
24 Arm
1-11/16" caliper tool is equipped with 24 independent arms and a measurement range of 1.96" to 7.09" with standard fingers and up to 9.7 inches with extended fingers kit.
40 Arm
2-7/8" caliper tool has 40 independent measurement arms, with a measurement range of 3.14" to 8.26" with standard fingers and up to 9.7 inches with extended fingers kit.
56 Arm
3-1/2" caliper tool features 56 measurement arms. The measurement range is 3.94" to 9.65" Three extension kits are available for assessing maximum inside diameters of 13.78", 16" and 20".
Radial Bond Log Tool
The 2-3/4" Radial Bond Log instrument features superior reliability and responsiveness, even in thin and low compressive strength cement sheath conditions. The main application of the Radial Bond Log is to appraise hydraulic isolation between producing and non-producing zones, a key factor in judging well integrity. The RBL generates data for evaluating circumferential cement integrity, along with standard cement bond conditions. In addition to a standard 3-foot spaced cement bond amplitude (CBL) and 5-foot spaced variable density log (VDL), the RBL tool produces a high-resolution radial cement map utilizing amplitudes from eight receivers positioned at 45-degree increments around the instrument. This produces a full 360° visual and digital record of cement conditions on all sides of the pipe.
Array Noise log Tool
The Array Noise Tool (ANT) is a next-generation wireline leak detection and fluid movement evaluation technology that allows continuous broad-spectrum sound data acquisition while ascending or descending in a wellbore. The tool employs an array of innovative differential measurements that produce excellent rejection of extraneous noise such as the "road noise" that is generated while the instrument is moving in the wellbore. The unique sensor array allows propagation-direction processing to further extract weak fluid movement sounds from behind multiple pipes. New machine learning algorithms further enhance the precise identification of fluid leak sources and paths.